How To Do Orange Eye Makeup?
Do you want to be the show stealer of the party? Nothing can be more breathtaking and eye-catching than orange eye makeup.
So, add on to the fun or holiday mood by including orange eye makeup into your beauty regime! Combine your favorite hues with orange and create your own style. After all, creativity has no limit!
Orange eye makeup will not only make people notice you, but it creates such a look that stays in people's minds for years to come.
Would you like to know more? Read on!
Orange Eye Makeup Method:

Whether you are going for a date or a party, orange eye makeup will never disappoint you.
Before starting working on your eyes, prepare your face by cleaning it with a cleanser.
Apply a layer of foundation using a brush. Conceal acne and other marks and blemishes using a concealer.
Make your face ready using a facial makeup powder. Matte effect looks the best. There are various colored powders available in the market to suit different skin tones. Choose one that best suits your skin tone.

Doing Up The Eye:


Apply primer all around the eye lids and then start applying orange eye shadow in a circular motion.

Apply it towards the inner corner of the lid, if you are mixing it with any other color.

Blend well. Now use a warm color (like brown) and blend it with orange. Brown should be applied towards the outer end of the lids.

You may also use colors such as gold, rust, and other warm tones of the same family as orange.

You may also give your eye shadow a smoky effect by applying black eye shadow to brown or any other warm color that you have applied along with orange.

Use your fingers or a sponge to blend the black color with the crease of the eye.

Now, use the same colors on your lower eyelid as well, starting from orange, brown, and finally black.

Just apply a subtle lipstick or merely a lip gloss, and you are ready to rock any party!

Sexy star Sofia Vergara made it big playing Gloria in the hit TV series 'Modern Family'. Raised in Colombia with her five siblings, she quickly became a red carpet fixture, but here's a couple of things you might not have known about this lovely Latina.

In order to make your eyes appear big, use a highlighting eye shadow just under your eyebrows.

Next is the turn of a black eyeliner to give depth to your eyes. Use a pencil liner on the lids and waterline.

Mascara will complete the magical look. Use black mascara for a dramatic finish. If you want to make your eyes even more attractive, fix artificial eyelashes.

Basic Tips:


Here are certain orange tones that would suit different skin tones. Check out what would suit your skin tone.

1. If You Have A Fair Skin Tone:

Don't think that orange will make your fair skin look weird or ghostly. Just use a hue of orange that would look great on your skin tone. Use creamsicle shade of orange, especially if you have blue eyes. People will not be able to take their eyes off you!

2. If You Have Medium Dark (Olive) Skin Tone:


Those who have olive skin tone find it easier to carry off orange eye makeup. The best tone of orange that would go with your skin color would be coral orange. Use matte finish for better results. You may also mix orange and pink from lighter to darker tones and create a fantastic effect.

3. If You Have A Dark Skin Tone:


Tangerine orange is your shade of orange eye shadow. Tangerine will stand out only if applied in the correct style. Start by applying layers. The first step should be a sheer application of the color, starting with the lids towards the crease. In the final step, apply a little bronze or gold for a beautiful and classy effect.

Some hues, like orange, are classy. Many believe not everyone can carry off bold colors. On the contrary, if you love a color, you should wear it. So, if you love the orange color, let the world know about it with classy orange eye makeup ideas!

How has this post helped you? Let us know by commenting in the box below
Pic Inside: Isithembiso Actress Londeka Mchunu's hair game…#Sne
Londeka Mchunu who is popularly known as her Isithembiso character Snegugu, is slowly making a name for herself on our TV screens. Her love for hair is getting our attention and we can't get enough of how her wig game is always on point. Did we mention that we adore how she has healthy natural hair under all the wigs she loves showcasing?
WATCH: 8 ways to style short natural hair
Take a look at the nine times we wanted Londeka's hair.
Colour
Also See: 8 things all natural hair ladies need to stop doing
2. Natural hair
See Pics: 9 celebs with colourful holiday hairstyles
3. Curls
Lightening Addiction – Here's How Much Khanyi Mbau Spends On Her Skin
Ever since the news of Media Personality broke that she use certain products to lighten her skin most people were left wondering of how much it would cost to look that 'light'.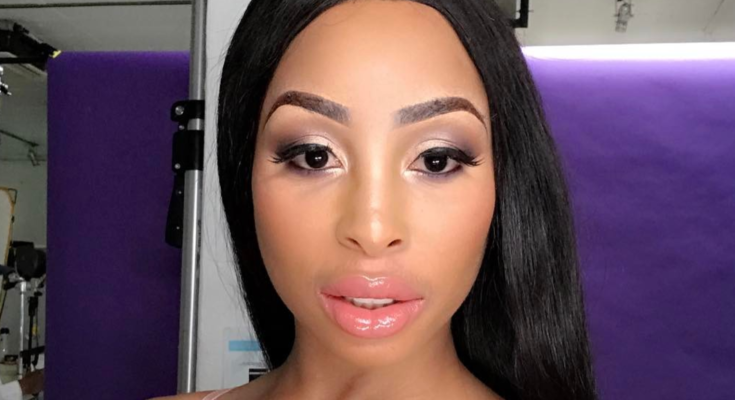 Social media users have been commenting negatively about her change of skin tone, instead of being discouraged the actress just looked much more lighter. Most people are left with questions of 'how does she do it' or 'why'.
Mbau goes through a medical skin lightening called Glucatathione IV, not only is the name difficult to pronounce but the process is not as easy.
This IV is something that has to be ongoing since it is intended to fight the natural production of melanin in the body, it's something you obliged to use regularly to keep your skin tone lighter. As we all aware every medicine we use comes with side effects.
This one can cause severe damage to internal organs such as kidney and cause a variety of infections. The benefit of the product is that it works all over the body.
The company Mbau goes to revealed the prices which read : a single dose of IV session starts at R950 , A double dose at R1500. Packages for 10 single doses at R14 000.
3 SIGNS THAT SHOW YOU ARE USING THE WRONG SKIN LIGHTENING CREAM
Usually, powerful skin lightening creams are available on prescription from a doctor. These usually contain one or both of the following medications: hydroquinone and corticosteroids (steroid medication), such as hydrocortisone.
Products containing these ingredients that haven't been prescribed by a doctor are banned in advanced countries, but we are looking forward to the day such measures would be taken in Africa, Nigeria precisely, as they can cause serious side effects if used incorrectly.
Products containing other potentially harmful substances such as mercury are also banned. Thus, it's usually appropriate you  ensure that you check the ingredients of any product before you buy it. Avoid it if hydroquinone, corticosteroids or mercury are listed in the ingredients, or if it doesn't come with a list of ingredients. Many alternative skin lightening products containing natural ingredients are available online and in shops without prescription. These are legal and unlikely to be harmful, but there's no guarantee they work.
We live in a country where some persons don't look before they leap; all they care about if just to be beautiful by being light-skinned thus, you find many illiterate Nigerians falling prey of very harmful bleaching products in the name of skin lightening.
Well, here the three signs that show you are using the wrong skin lightening cream;
1. Skin Irritation and Inflammation:
Usually, when you notice the redness and swelling of your skin, with the knowledge that you are using a skin lightening product at that time, this is known to be a skin irritation and inflammation hence, you have been using the wrong product.
2. Itchy and flaky skin:
The skin usually itches and flakes, as an indication that there is presently a harmful skin care product being used. Once this is noticed, it is best to quit using such before it becomes worse. There could also be some abnormalities in newborn babies as a result of using the wrong lightening cream during pregnancy.
3. Burning or stinging sensation:
Harmful skin lightening products usually bring about a burning or stinging sensation. With this, you have your skin scary, turning dark and thinning.
In all, wrong skin lightening creams are extremely dangerous to the skin. This is the main reason you should be on the lookout for a good skin lightening cream!